BRUNSWICK, GEORGIA – A donation this week is expected to bring joy to local students after the start of the new year.
The Brunswick Landing Marina donated Tuesday more than 30 used bikes of various sizes to Bike Walk Golden Isles, a local advocacy organization that promotes walking and biking.
BWGI plans to work with Glynn County Schools to donate the bikes to middle schools and high schools in the area.
"The community has done so much to support the marina and our other companies around Glynn County that I feel like it's a nice way to be able to give back, by putting these bikes back into use," said Michael Torras, marina manager.
BWGI has coordinated with a local Boy Scouts troop for its members to fix up the bikes and earn their bike mechanic merit badges, said Tyler Vaughn, who serves on Bike Walk Golden Isles' board of directors and who helped organize the donation.
"And then Bike Walk Golden Isles is going to distribute the bikes based on demand to the local high schools and the local middle schools," he said.
The bikes were used by marina customers, Torras said, but have been replaced by new ones.
"We figured the best way to put these to use was to get them back on the streets and in some kids' hands," he said.
The marina worked with Vaughn's company, Brunswick Old Town Tours, to replace its bike fleet. Marina staff then suggested making the donation to Bike Walk Golden Isles to ensure the older bikes were put to good use.
"The Brunswick Landing Marina has been absolutely wonderful to work with," Vaughn said.
Brunswick Old Town Tours offers bike rides through historic downtown and old town Brunswick and shares stories about the city's history during tours.
Bike Walk Golden Isles advocates for bicycle and pedestrian safety. The organization hopes to see an increase in cycling and walking in the community, Vaughn said.
"We want to see an increase in improvement in infrastructure for that in the downtown area, and getting as many people out on bikes as possible is our goal," he said.
One of the organization's partners is the Safe Routes to Schools program, which promotes safe cycling and walking for students.
"When the marina reached out to us and let us know that they had these bikes and they wanted to see them be put to use, our immediate thought was working with the local high school and middle school principals," Vaughn said. "And the Brunswick Landing Marina was 100% behind that."
The marina also wanted to ensure they could donate the bikes in a way that would have the most impact, said Daren Pietsch, marina president.
"We thought this was just a very worthy cause," he said. "They'll continue to be used."
Summary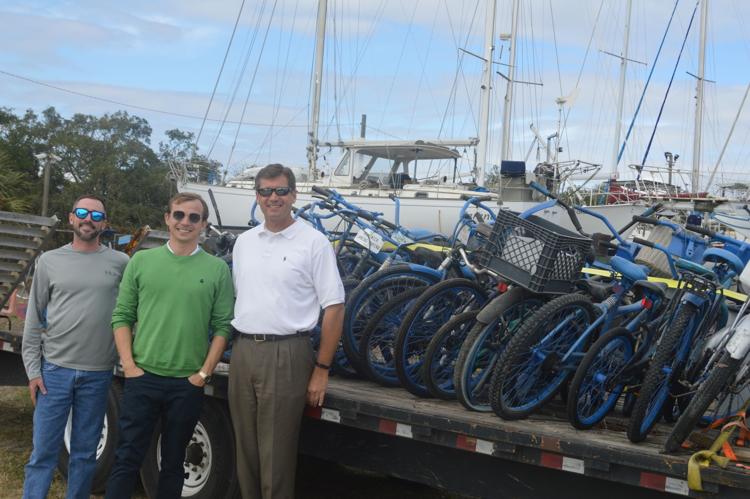 Article Name
Bike donation to benefit local schools