BRUNSWICK, GEORGIA – Hurricane Irma was a historic storm of epic proportions with measured winds over 200-mph and storm surge over 18-ft. We are grateful to report that Brunswick Landing Marina sustained zero damage resulting from the storm. The area where the marina's docks are located has for decades been called a hurricane hole marina because the land mass surrounding it on three sides protects the docks and customers' boats from hurricanes. This unique geographic quality is why during a hurricane, like Irma, everyone of the 341 slips at the marina are occupied.
There was only one customer boat that reported any damage and that was a head sail that was not properly secured. Unfortunately, one of the marina's service boats was damaged. The day before the hurricane was to make landfall, the boat was launched and sent to a neighboring marina to assist in the removal of damaged concrete floats they were worried may break loose during Hurricane Irma. While our boat was away, we had a customer arrive at the marina with that was taking on water. The boatyard was full leaving no jack stands available for this new arrival. The customer's boat was lifted and subsequently left in the travel lift slings to ride out the storm. However, this resulted in our service boat being left in the water at one of our out-of-service docks. Because of this, our service boat ended up being sunk by the unsecured service dock during the hurricane. The boat was immediately raised and fitted into the marina's maintenance yard so that the engines could be flushed and to allow repairs to commence. The boat has subsequently been relaunched.
On Sunday, September 10, 2017, as Hurricane Irma traveled north, the marina felt sustained winds of 30-mph with gusts up to 50-mph. On Monday morning, September 11, as the hurricane drew closer to Brunswick, GA, the marina had sustained winds of 50-mph with gusts up to 70-mph and heavy rains. The peak of the storm surge came during the Monday afternoon 1:15 PM high tide. Even though we had a 6-ft storm surge coupled with a near-neap tide of 8.2-ft, the marina's floating docks all held strong and had plenty of concrete pile remaining above the water settling any fears of the docks floating off of the piles.
Interestingly, during the storm 90% of the marina never lost power. The marina's yacht club was left open to allow customers a place to relax while the storm passed. Since the Yacht Club is equipped with DirecTV, and never lost power, our customers were able to stay tuned to the approaching storm and even be entertained during the storm.
Comcast suffered off-sire damages to their utilities which resulted in the marina's WiFi and telephones to both be temporarily out of service. We are working with Comcast to get these services back up and running as soon as possible.
We are here to serve the boating community both in good and bad times. We sympathize for the marinas on the southeast coast that have been severely damaged by this hurricane. We are glad that many of their boaters found refuge with us. We hope that these boaters will enjoy downtown Brunswick and their stay with us. Please consider making this marina your home port and if not, come back to see us soon under happier circumstances. We are grateful for your business.
Summary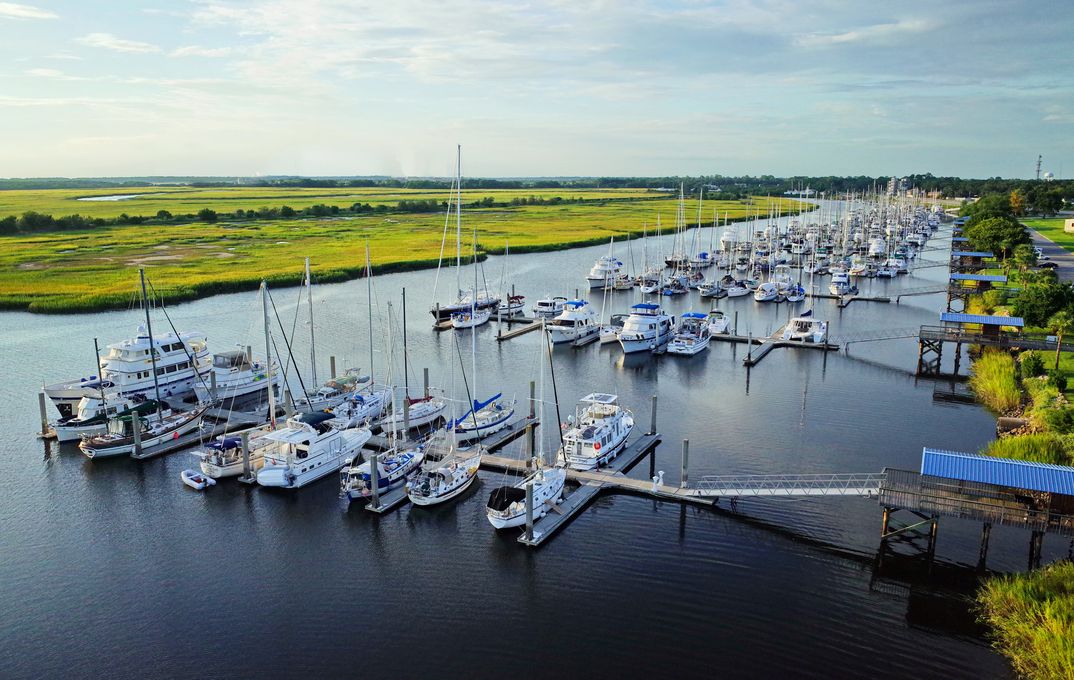 Article Name
Brunswick Landing Marina: A Proven Hurricane Hole
Description
If you're looking for a hurricane hole marina to whether a storm, look no further. Brunswick Landing Marina has proven itself once again!